GENERAL DENTISTRY
COSMETIC DENTISTRY
EMERGENCY DENTAL CARE
WELCOME TO ROME SMILES
Dr. Scott Scharnhorst, and Dr. James H. Hudson Jr. are general dentists in Rome, GA. Our mission is to provide quality, comprehensive dental care for you and your entire family! Our number one rule is that we treat everyone like family. whether you have a dental emergency, would like to improve the appearance of your smile, or are just looking for a new dentist, we would love to be the dental office that becomes your dental home.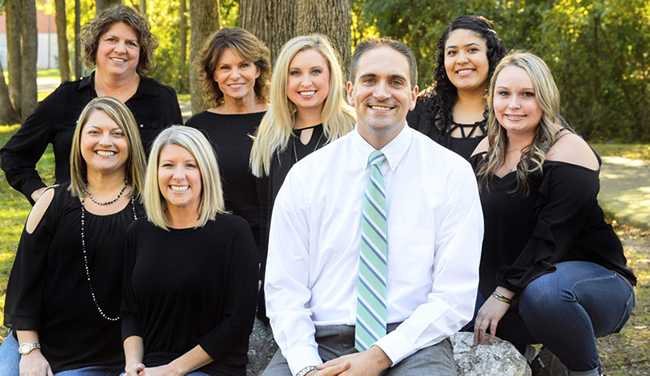 Today was my first visit. Let me say that EVERYONE was so welcoming. As soon as I approached the receptionist she greeted me with a smile. I have very sensitive back teeth. I explained this to the hygienist and she made every accommodation to make my cleaning as comfortable as possible. The Dentist took time to listen to any questions or concerns I had. I generally despise going to the dentist. However, with treatment such as this I know I will not dread it as much. Great experience!
Papi Reed
Always a good experience
I have been going to this office for decades and have always felt well taken care of and appreciate. Jennifer and Amy are wonderful and talented hygienists. Dr. Hudson has a fantastic crew.
~ Susan S.
High quality service, very professional, yet friendly and so helpful.
Review for Dr. Hudson's office.
~ Mark H.
Building Bridges
Went in for phase 1 of getting a bridge done. Dr. Hudson was at his normal best and made me feel comfortable and made sure I felt no pain while he performed his artistry. And, as always, a friendly and professional staff that make you want to come back.
~ James D. D.
Very warming and courteous atmosphere professional service
I forget upon entering that I am in a Dentist office the staff makes you feel so at ease it is rather pleasant. Very professional and very courteous and Dr Hudson is great with his patience kindness and service
~ James M.
Great service from Dr Scott S. He looked at my problem and made a recommendation that I totally agree with. Every one is always very friendly
~ Ron B.
Dr Scott is awesome
I called after hours and Dr Scott saw me when the office was closed. He was very knowledgeable about his job! A huge thank you!
~ James E.
Professional, extremely friendly personnel.
I recommend this dental office to anyone needing a dentist. Personal, compassionate care to all patients. Appointments are always on time; never have to wait. It's a well-oiled machine, with patients always considered first.
~ Sue C.
Great visit as always! I have the best dental hygienist!!!
~ Amanda W.
In the world we live in now everything is rush rush. The staff takes time to listen until your finished with your concerns and questions. Then lay out a plan that best fits your dental needs and the best action to take for the dental care needed. Very much appreciated these days.
~ Timmothy B.
My family and I have been patients of Dr. Hudson and his staff for many years. The dental care is top quality and the people are always friendly. They personalize your care in a way that makes you feel comfortable seeing the dentist. I would not even consider going anywhere else.
~ D. Lee
Dr. Scott Scharnhorst is a type of dentist you will not find just anywhere. He is honest and will not shy away from telling you all of your options and what he would suggest, which is greatly appreciated! With no doubt, I highly recommend if in the search for a professional, personable dentist!
~ Madison H.